preparing for your session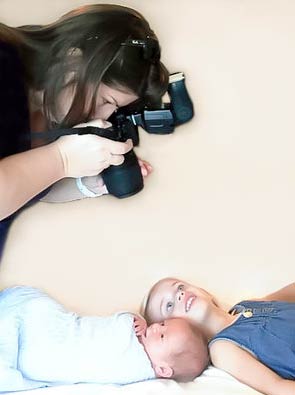 It's best to schedule your session during your pregnancy to ensure availability, but last minute bookings are occasionally available. In most cases, newborns are best photographed within the first two weeks of life. After 14 days, they are generally less sleepy and harder to pose. Preemies have a longer grace period. But no matter the mood of your baby that day, you will come away with personalized art work to cherish and display for generations.
Newborn sessions take place in our studio in Flourtown, Pennsylvania - over a hundred years old but fully renovated in 2017. Plan on feeding baby just prior to your session or upon arrival to ensure baby will be content to settle into a sleepy pose. You'll choose from our assortment of props, wraps, and boutique clothing - no need to purchase anything for your session. If siblings will join in, you'll want to have a second adult ready to take them home once they've rocked their part - big siblings are the best, but three hours is too long to wait patiently!
Susannah has been called a whisperer of tiny humans by many a client, and takes pride in not only her work, but also in her patience and ability to settle each baby. Upon seeing her skills in action, parents have been known to ask "Can we take her home with us?" Inquire today to schedule your consultation - these fleeting moments will fade before you know it, and Susannah would love to help you preserve them!
---